Original hand crafted orthotic and digital design file of smoothed orthotic ready for Stratasys 3D Printer
Recently, the Veterans Affairs Center for Innovation (VACI) launched the first nationwide medical 3D printing network through a collaboration with Stratasys, one of the largest manufacturers of 3D printers globally. As part of this effort, five Stratasys 3D printers were installed in VA hospitals across the country- Seattle, Albuquerque, San Antonio, Boston and Orlando - building upon the incredible work of existing 3D printers across the VA. Dr. John Hoy (Associate Chief of Staff, Radiology at the Orlando VA) has been working with his dedicated team to envision best-practices for connecting hospitals across the country so physical resources (such as printers) and VA employee expertise are available to all Veterans. This will allow Veterans to access customized 3D printed anatomical models, assistive technology devices, orthotics, and other tools- empowering them to do things they love.
Already, the power of these new 3D printers and connectivity of the network are being demonstrated in two distinct examples of multi-site collaboration: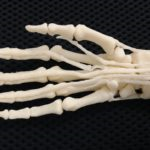 Hand model 3D printed on Stratasys technology to aid teaching, diagnosis and procedural planning.
Gary Brayshaw, a Veteran in Washington state, is an avid outdoorsman. Chopping wood was a daily occurrence and a way of life before his hand contracture made this impossible. A determined occupational therapy hand specialist, Mary Matthews-Brownell, contacted the Seattle VA 3D printing leadership and explained her vision for a custom 3D printed splint for her patient. Seattle leadership then identified the ideal network specialist for the project - Ben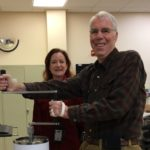 Gary with his occupational therapist Mary, testing fit of prototype orthotic - 3D printed with Stratasys technology.
Salatin, clinical rehabilitation engineer at the Albuquerque, NM VA hospital. Ben and Mary worked together bringing her vision to life - a rugged 3D printed custom orthotic enabling this Veteran to confidently pick up an axe again. Mary's original hand crafted orthotic was CT scanned in Seattle and this digital file was sent to Ben who optimized design and 3D printed a fit test prototype. As Gary liked the fit, the final orthotic will be printed from a softer, more rugged material. If the orthotic does break, Gary doesn't need to have a new one hand fabricated. A perfect replica orthotic can be 3D printed from the digital design file and mailed to Gary - saving him travel time and allowing Mary to serve other Veterans.
Ismael Baca, a Veteran living in Albuquerque, NM, recently suffered a spinal cord injury. Upon visiting the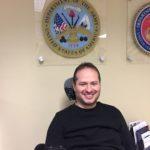 Veteran Ismael Baca is happy with the performance of his new Stratasys 3D printed toggle switch.
Albuquerque VA hospital's Spinal Cord Injury Center for therapy, Ben Salatin (a clinical rehabilitation engineer and 3D printing project co-lead) noted his difficulty activating toggle switches on the wheelchair joystick due to lack of finger function.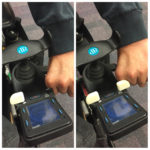 Before and after installing 3D printed toggle switch adapters – powered by Stratasys.
The switches could have been bypassed with external buttons placed elsewhere on Ismael's wheelchair, but this added complexity. Ben designed and 3D printed a press-on adapter to enlarge the toggle switch so Ismael could easily access the controls directly. After a week of testing, Ismael pronounced the design a success. This design will now be shared with other VA hospitals for Veterans to leverage. With only a few quick design changes, it can also be customized to fit the unique needs of any Veteran.
The overarching vision for 3D printing is universal availability at all 168 VA hospitals across the country - accelerating development of personalized healthcare, tools and technologies for Veterans and their families.
You can read more about the VA's current work in 3D printing at the McGuire VA hospital in Richmond, VA in this blogpost.